May 2016 is HERE!
I apologize for my absence...
Was gone fishing! (and catching bronchitis)

The June 4th meeting was moved o the 11th due to the Big Foot Tour and will be held in Wilkeson.
Just now starting to catch my breath and have not yet spoken to Nick or Renee to catch up on the meeting I missed.
The Kitsap Club who have invited us to join their Big Foot Tour are trying to get a head count so they can purchase the appropriate amount of food. There will be cars from the Seattle Club as well. Please contact me and let me know if you plan to attend. At this point Jerry Ostbye, Renea and I are going and a few others of expressed interest but have not committed. Time is getting short so please let me know! Here's what they have scheduled:
No Host…No Fee…No Whinning…Hurricane Ridge & Beyond
June 4th & 5th 2016
June 4th Meet at the Chimacum Café …. 12:00 PM …Leave at 1:00 PM
9253 Rhody Dr…….Chimacum , Wa. 360-732-4631
½ day tour to Quilicene and thru part of the Olympic National
Forrest. Will be a BBQ at Bob & Karen Loids after the run.
June 5th Meet at the Chimacum Café….8:00 AM..Leave at 9:00 AM
Full day tour to Hurricane Ridge.
Lunch at Approx. 1:00 PM at Traylors Restaurant
3320 Hwy 101 Port Angeles, Wa. 360-452-3833
For more information call cell phone #s
Morris 360-531-0549
Bob Loid 360-643-0198
PS: potluck food can be delivered to START of tour and we have made arrangements to deliver to our house and keep hot or cool as needed.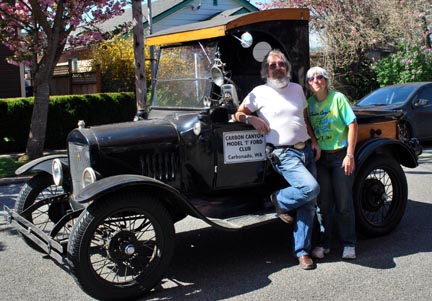 The "New Iron Tour" to Steve Tomaso's place was a great time. I think meeting up at Harbor Freight in Tacoma was a great idea as well all ended up with new and "necessary" tools! The beautiful trip through the countryside on Key Peninsula did not disappoint us nor did Steve and Diane's hospitality which included a nice picnic lunch! They have a large and gorgeous retirement home (did I say large?) and I am sure it will satisfy their every need. Diane intends to retire VERY soon and Steve has T worked stacked up for another year at least.
The "Tenino Run" cost Bob Gruber a piston but other than that I have not received any feedback. Renea and I always enjoy that run as do many others.
My goal this year is to add one new member to our club roster every month. Renee Watters was not with us this meeting so I do not know how we fared for March. I have another prospective member who has verbally committed but then every T owner has been "committed" at one time or another... ;)
I managed to get some pictures of members and the cars for our calendar for next year. I'll go through them soon and see how we are doing with them. Thanks for bringing those beautiful machines! I have also updated our members page to include Cal Bush and his Grandaughter Sophia.
Cal Bush and Sophia.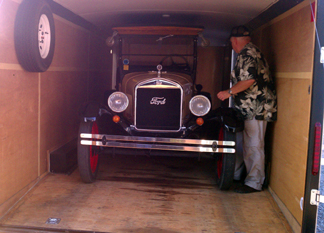 No matter how far away from home you are when you
break down we will get you home!

Remember to bring your Model T so I can take your picture of it and you so I can add you to our members page.

CARBON CANYON MODEL T FORD CLUB MEMBERSHIP ROSTER
Joker Poker is up to $590.
No winner again!
Don't forget to order your jackets!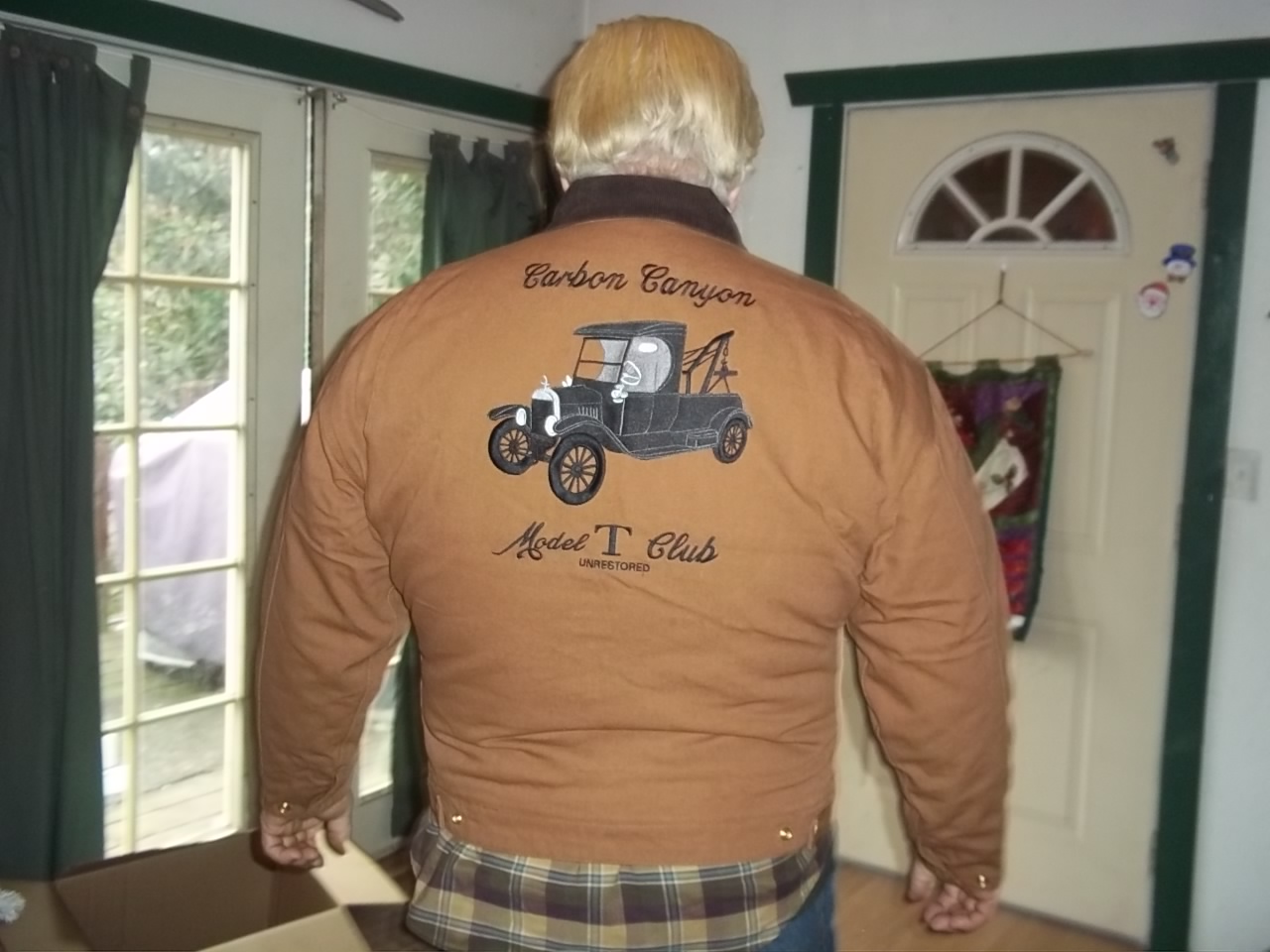 Shawn Reiman at Shawn has the prices and contact information for the embroidery and has graciously volunteered to head this effort for us. Thanks Shawn!